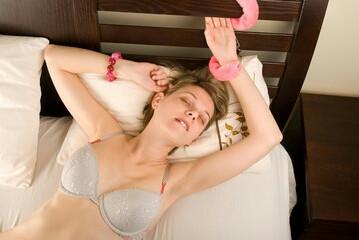 Michael Scott
Free Erotic Dreams File - A No-Cost Introduction to Erotic Hypnosis
Sale price
$0.00
Regular price
$24.95
ReadXaxis.com is proud to offer Michael Scott's Sexy Dreams file for women as a free digital download to introduce you to the power and effectiveness of erotic hypnosis and Relyfe Programming. 
Always wanted to know how erotic hypnosis works?   If it works for you or your girl? 
Find out tonight! 
A part of the Pillow Talk Companion CD,  the Sexy Dreams file will induce in you,  or your lover,  powerful erotic dreams at night,  and will cause the listener to wake aroused and even causes most people to orgasm in their sleep! 
Download the file and enjoy this introduction to the awesome power of erotic hypnosis on us! 
***** Caution *****
This product can cause a loss of sleep through nocturnal arousal and orgasm, as well as instances of unexpected sexual arousal during the day.  
Send your feedback on this product to sales@ReadXaxis.com
 50 shades ofGrey, fifty shades of Grey, Christian Grey, 50 Shades Darker,  fifty shades darker, BDSM, Bondage, Sex Slave MP3, Erotic Hypnosis, BDSM dating, sex slave hypnosis,  hypno Domme, hypno slave, free erotic hypnosis
---
More from this collection